Media
Dr. Samer A. Kanaan in the News
Advancements in Minimally Invasive Lung Surgery Return Patients Back to Their Lives Sooner, with Quicker Recovery
Lung cancer screenings are the single most important way to safely and quickly tell if you are at risk for lung cancer if you are or were a former smoker. A quick scan can determine if you have lung nodules. Just because you have a lung nodule doesn't mean you have lung cancer. In fact, many nodules are not cancerous and are considered benign. Those we just continue to watch over time.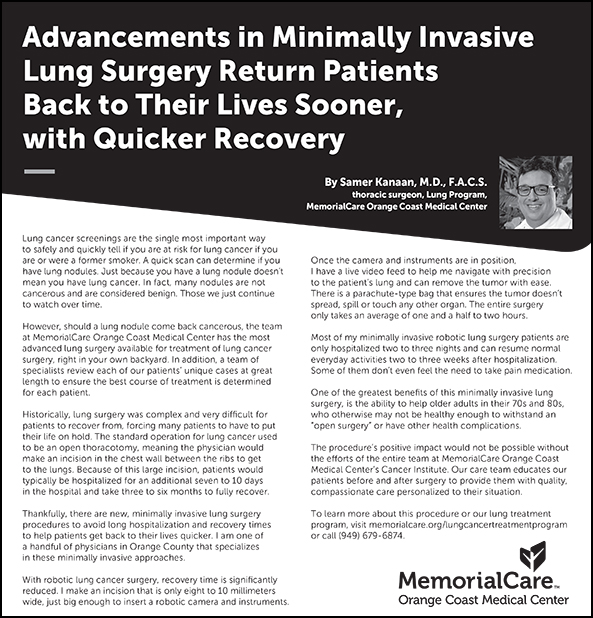 Impact OC: Using Robotic Surgery to Treat Cancer
Click here to listen to the podcast.
Dr. Samer Kanaan LEORARD CANCER INSTITUTE at Mission Hospital - Impact OC
Click here to listen to the podcast.
Dr. Samer Kanaan has been appointed Director Thoracic Surgery at Mission Hospital.
Samer A Kanaan, MD has been elected a fellow of the American College of Chest Physicians by the Board of Regents and is entitled to all honors, rights and privileges.
(Click the thumbnail for enlarged view)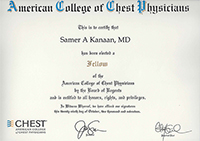 As of January 2018, Dr. Samer A. Kanaan has been appointed as Chair of Cancer Committee at Mission Hospital in Mission Viejo.
Dr. Samer A. Kanaan as a friend of the American Lung Association Champions of Breath
I am proud and honored to be recognized by the American Lung Association's Campions of Breath for my vision and commitment to advancing the mission to save lives by improving lung health and preventing lung disease.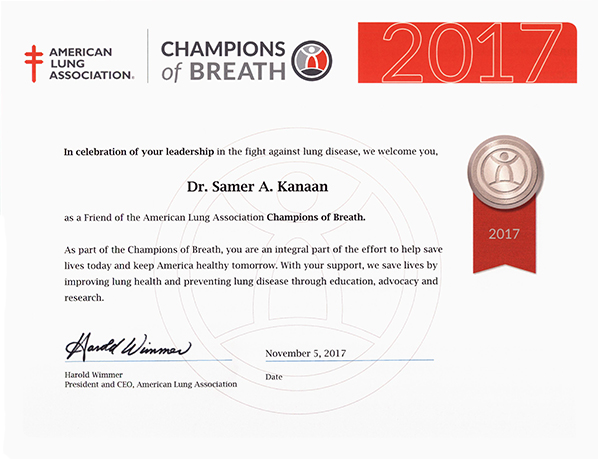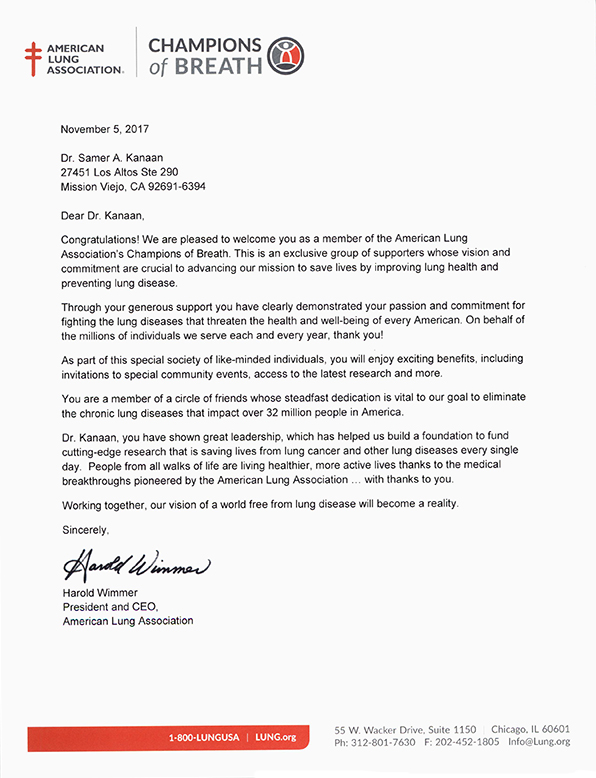 Samer Azzam Kanaan, MD, Named a Lifetime Achiever by Marquis Who's Who
SAN JUAN CAPISTRANO, CA, September 28, 2017, Marquis Who's Who, the world's premier publisher of biographical profiles, is proud to name Samer Azzam Kanaan, MD, a Lifetime Achiever. An accomplished listee, Dr. Kanaan celebrates many years' experience in his professional network, and has been noted for achievements, leadership qualities, and the credentials and successes he has accrued in his field. As in all Marquis Who's Who biographical volumes, individuals profiled are selected on the basis of current reference value. Factors such as position, noteworthy accomplishments, visibility, and prominence in a field are all taken into account during the selection process.
Dr. Kanaan was recently accepted into the MemorialCare Physician Society. This society is composed of like-minded physician leaders dedicated to the highest clinical care standards.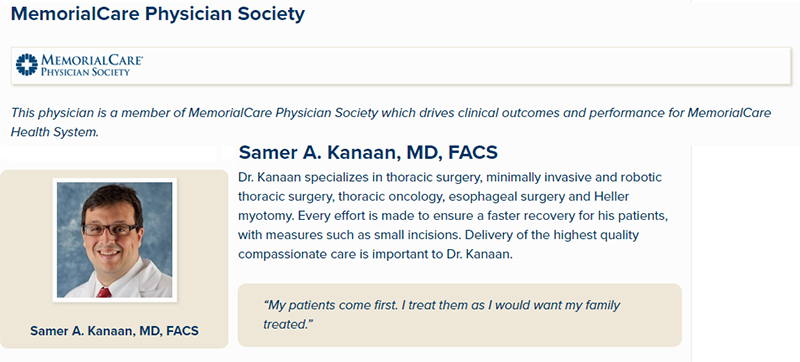 Minimally Invasive Approach Revolutionizes Lung Cancer Surgery
By: Samer Kanaan, MD, FACS
Lung cancer kills almost 160,000 Americans a year, and is the leading cause of cancer death for both men and women. In fact, more people die of Lung cancer than of Colon, Breast, and Prostate cancers COMBINED!
The majority of patients with lung cancer present with advanced disease, but recent studies have shown a significant survival benefit with CT scan screening for former smokers. Lung cancer screening should lead to earlier detection and thus earlier stage lung cancers. Surgery is the treatment of choice for early lung cancer and offers the best chance for cure from lung cancer.
Lobectomy is the removal of a lobe of the lung, usually done to treat lung cancer. Traditionally, a thoracotomy was used to accomplish this, but the incision was large, and painful since this involved cutting or removing the ribs to access the thoracic cavity to perform surgery. Patients would require substantial recovery time both in and out of the hospital, and the traditional thoracotomy approach led to many postsurgical complications.
Innovative & Expanding Minimally Invasive Thoracic Surgery
Dr. Samer A. Kanaan is a Board Certified Thoracic Surgeon specializing in Minimally Invasive Thoracic Surgery and Thoracic Oncology.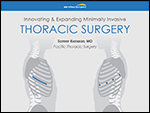 Community Wellness Seminar
What's New in Lung Cancer Treatment
Dr. Samer Kanaan discusses new lung cancer treatment options. Join Dr. Kanaan on April 5th to learn more.
Register at: memorialcare.org/sbclasses or call 800 636 6742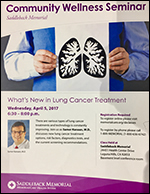 Dr. Kanaan appointed as Cancer Liaison Physician (CLP) at Mission Hospital Regional Medical Center.

Samer Kanaan, MD FACS is pleased to announce his recent appointment as Cancer Liaison Physician (CLP) at Mission Hospital Regional Medical Center.
Effective January 1, 2017, the tenure of this appointment is for three years.
Now Dr. Kanaan is part of an exclusive network of 1,500 physician volunteers charged with the task of providing leadership and improving the quality of cancer care at your facility. The role of the CLP according to the accreditation standard (4.3), CLPs are responsible for activities in five areas: (1) monitoring and interpreting cancer program's performance using National Cancer Data Base (NCDB) data to evaluate and improve the quality of care the facility provides, (2) reporting on CoC activities, initiatives and priorities to the cancer committee, (3) serving as liaison for the cancer program with the American Cancer Society, (4) being present during the CoC survey and meeting with the surveyor, and (5) completing an online report of annual activities as the CLP.
Community Educational Talk
Taking Robotic Surgery To The Next Level
Date & Time : Thursday, May 11th, 1 p.m.
Venue : Norman Murray Community Center
Come learn how Mission Hospital is taking surgery beyond the limits of the human hand! Join Samer Kanaan, MD, Thoracic Surgeon from Mission Hospital in a discussion on how robotic advancements are improving the quality of care, reducing pain and recovery time for patients undergoing a variety of thoracic surgeries such as, cancer, and hernia repairs.
Dr. Samer Kanaan Appointed to Commission on Cancer Position
Samer Kanaan, MD FACS received a three-year appointment as Cancer Liaison Physician for the cancer program at Mission Hospital Regional Medical Center. Cancer Liaison Physicians are an integral part of cancer programs accredited by the American College of Surgeons Commission on Cancer.
Lung Cancer:
Dr. Samer Kanaan and Dr. Jason Ladwig explain a new approach for lung cancer using Electromagentic Navigational Bronchoscopy (ENP) on WWMT's "Doc Talk."
Click on the thumbnail for enlarged view
Lung Cancer Screening
Why We're Here
The lungs
What is lung cancer?
How common is it?
Risks & symptoms
Diagnosis & treatment options
Dr. Samer A Kanaan Radio Show 2010
Dr. Samer A Kanaan Radio Show 2008
Health Focus
Out of Africa.. and Back to Napa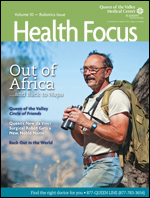 Queen of the Valley Circle of Friends
Queen's New da Vinci Surgical Robot Gets a New, Noble Name - Health Focus
Enjoying Good Food & the Golf Course Again
Achalasia is definitely not a common household word. But when Janice Howard heard it described to her, light bulbs went off in her head.
"I had been suffering with terrible stomachaches and what seemed like acid reflux for years," Janice says. "I went to all kinds of doctors and no one seemed to be able to figure out what was causing it. My husband, James, was incredibly supportive, but over time it got steadily worse and worse and worse."

Please Know More
Beating Lung Cancer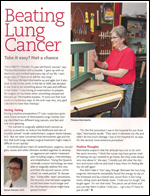 Take it easy? Not a chance
"I'm a Pretty Tough, 72 year-old French Woman," says Theresa Morrissette with a chuckle. "I grew up with no electricty and worked hard every day of my life. I start to go crazy if i have to sit still for very long."

Please Know More

Living Healthy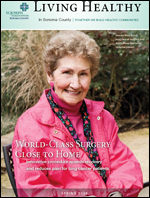 World-Class Surgery Close to Home
Innovative procedure speeds recovery and reduces pain for lung cancer patients

Please Know More
To open the Adobe PDF files you require an Adobe Acrobat Reader. If you do not have a copy, you can obtain a free copy of the Reader from the Adobe site. Click on the Adobe logo below go download the Adobe Reader.

PDF documents are automatically opened within a new browser window when you select a topic below.
To save a copy of the handouts, right-click on the link to the file you wish to save. Select "Save Target As" (Internet Explorer) or "Save Link As" (Netscape). You will then be asked for a location to save the file.
To print a copy of a PDF handouts, select Print from the File menu and select your print options.